On-line Film Submission Form
film and technical information, festival history, awards
director, contacts, credits, cast
synopsis, director´s biography and filmography
market information
files upload
confirmation email, confirmation slip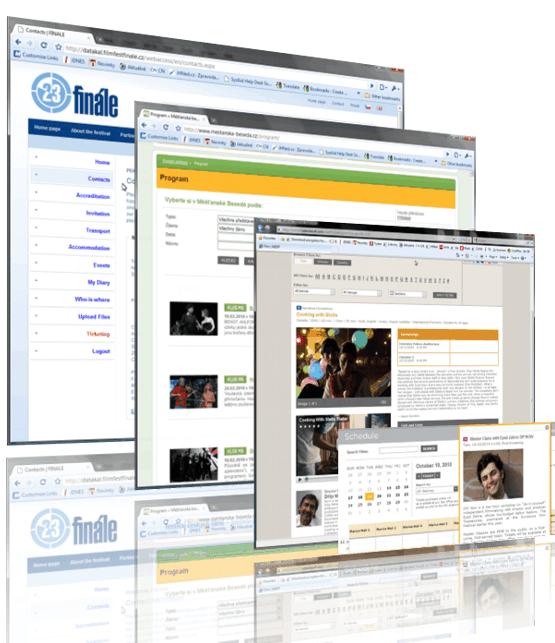 On-line Film Information Form
On-line module for updating existing film data by the submitter.
System generates an unique link for each film entry.
Data are updated in the temporary database and then transfered to DataKal.
On-line Film Evaluation
Secure system for evaluators to rate and comment on films.
Security features to limit each evaluator if neccessary.
Online connection with DataKal, data can be viewed with each film entry.
Various types of searches, rating, comments, exports, statistics and charts.
On-line Film Guide
Online film guide with detailed film information.
Technical information, synopsis, director´s biography and filmography, credits, cast, contacts.
Pictures, trailers.
Marketing tools (highlights, suggestions).
Audience comments and rating.
Various types of film search (by title, date, venue, genre, film section etc.).
Schedule (another type of screenings view).
Events (non-film program highlighted).
On-line Ticketing
Implemented in online film guide. It allows to book/purchase tickets directly from online film guide.
Seat selector, venue view.
Shopping basket.
Tickets reservation, or credit card payment process.
Confirmation email and confirmation slip (barcode and order review included).
Registration for buying tickets requested.
Benefits, marketing tools etc.
On-line Registration
On-line registration system for new delegates requesting accreditation.
Different types of registration.
Multiple contact information, photo upload, files upload.
Activities specification, industry information, media information.
Confirmation email, confirmation slip.
On-line Personal/Company Folder (Web Access)
System allows guests and participants to access their personal or company folder.
System is different for invited guests, delegates and companies.
Data update is made online by the person/company.
Personal folder: contact information, invitation, accreditation, travel, accommodation, events, films, tickets reservation/purchase, merchandise, payment, diary, industry info, who-is-where.
Company folder: contact information, company representatives' registrations, industry info, who-is-where.
On-line Arrivals and Departures (Airport Access)
Arrivals/Departures online lists by date easily available for the airport staff.
Lists include travel details, hotel information and other notes for each person.
Exports available.
On-line Hotel Access
Online list of accommodated guests for each hotel (passworded access).
Hotel list can include arrival date, departure date, festival pay or guest pay specifications, transportation details, notes for receptionist.
Exports available.
On-line Industry Guide
Online list of companies and their representatives.
Contact information, company profile, territories of interest, activities, recent titles.
Export of contacts as business cards (vcard).
On-line Planning Module
Festival and event planning system.
Reminder system for scheduled tasks.
MS Outlook and iCal systems integrated (schedules export).
PDA, iPHONE and SMARTPHONE Access
Limited access to contacts and film database for DataKal users.
Online film guide and ticketing available for audience.
News
References

FEBIO FEST